Cancy wasn't feeling too well tonight. I think he might be coming down with what I had about a week ago. So to keep us both full of good stuff to fight off the colds, I made this soup really simple tonight. This time around I did just chicken, vegetables, and spices. Normally I would add noodles or dumplings to it, but I wanted to stay fairly plain. Oh and this always leaves more broth than soup so be sure you save it. We freeze it to use in recipes later or freeze it in ice cube trays for Chile to have her frozen "chicken'sicles" (which, by the way she loves)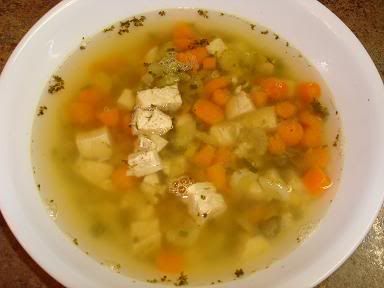 chicken soup
2 Chicken Breasts
2 Chicken Bouillon cubes
1 C chopped baby carrots
1/2 C chopped celery
1/4 C chopped green onion
1 tsp Italian seasoning
1 tsp garlic salt w/parsley
1/2 tsp pepper
Fill a medium pot with water. Bring to a boil & add chicken breasts & bouillon. Turn heat to medium and let simmer for about 20 minutes or until chicken is no longer pink in the middle.
While your chicken is cooking, use that time to chop your vegetables.
Once chicken is done, take out and place on a cutting board and add vegetables to broth. Let vegetables simmer for another 20 minutes or until carrots have softened.
While the vegetables are cooking, chop chicken into tiny bite size pieces. Add to broth & vegetables.
Add seasonings to soup & let everything simmer for an additional 15 minutes.
Dish up & Feel better.