This is from Whole Food's recipe section of their website.  I love that store. Despite being referred to around here as "Whole Paycheck', you can find some surprisingly good deals there. I'm lucky enough to live close to this Austin based company's flagship store in downtown Austin, TX.
I made this recipe last night. It was such an interesting combination of spices. But everything played nicely together. If you try this one out, really try to use the ground lamb. It brings such a different flavor to the party then ground anything else. It was really good. We just topped it with a little Feta cheese and a side of hummus. Yummy!!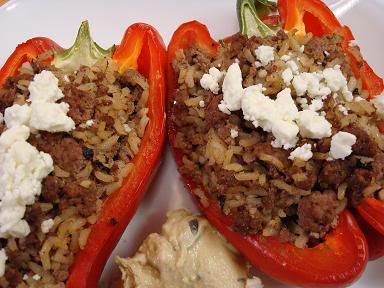 Moroccan Spiced Stuffed Peppers
2 red bell peppers, cut down the center, cored and seeded
1/2 pound ground lamb
3 cloves garlic, minced
2 tablespoons lemon juice
1/4 cup finely chopped mint
1 teaspoon ground cinnamon
1 teaspoon ground cumin
1/4 teaspoon cayenne pepper
1 cup cooked short grain brown rice
2 cups chicken broth, divided
In a large saucepan, cover peppers with boiling salted water. Cover and simmer on low 5 minutes. Drain peppers upside down on towels.
In a large skillet over medium heat, brown lamb and garlic, breaking up lamb. Remove from heat; stir in lemon juice, mint, spices, cooked rice and 3/4 cup of the broth. Stuff peppers with mixture.
Stand stuffed peppers in remaining broth in a large saucepan. Bring to boil. Reduce heat to low. Cover; simmer 15-20 minutes until peppers are just tender.