This came from Lauren's blog. I, liked her, was a little bit weary of using beer in chili as I am definitely not a beer girl. However, the beer, the lime juice, & the honey all play so nicely with the rest of the ingredients. We had this over brown rice & it was delicious.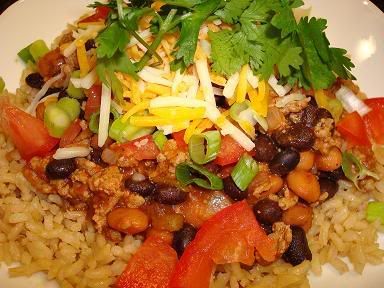 2 tablespoons olive oil
1 small onion, roughly chopped
1 pound ground turkey
½ - ¾ cup summer ale (we used Corona)
1 can black beans
1 can of pink beans
1 zucchini, roughly diced
1 1/2-2 cups tomato sauce
1 tbsp cumin
2 tsp chili powder
2 - 3 shakes of Worcestershire sauce
Salt & pepper to taste
1 ½ - 2 tablespoons honey
Splash of lime juice (optional, but try it, it's yummy)
Toppers: Cheddar cheese, green onions, chopped tomatoes, cilantro
Heat your pan to medium; put the olive oil into the pan. Toss in the chopped onion. Brown your ground turkey.
Pour in the beer and cook for a few minutes to let the alcohol cook out.
Drop the heat back to medium and add in everything else, no particular order (except for the toppings, of course!). Then, let simmer for 20 – 25 minutes.
At the very last second – cut a lime in half and squeeze the juice over the chili.
Serve warm over rice with your choice of toppings. We used green onion, chopped tomato, cilantro, and shredded Colby-jack.