I've always loved the flavors used in Greek cooking.
This
is a really simple casserole that goes together quickly and has a nice flavor to it. You could very easily turn this into a vegetarian dish by sticking with the 2 zucchini and adding the tomatoes. All in all, it was a tasty dish. Enjoy!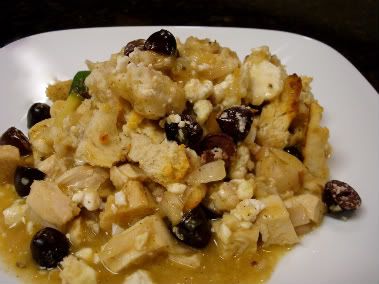 Greek Chicken & Pita Bake

1  10 3/4-oz. can condensed cream of chicken soup
4 cups chopped cooked chicken (about 1 1/4 lbs.)
2 medium zucchini, halved lengthwise and cut into 1/2-inch slices (I just used 1 zucchini)
1/2 cup chicken broth
1/2 cup chopped red onion
2  cloves garlic, minced
1/2 teaspoon Greek seasoning
3  6-inch pita bread rounds, torn into bite-size pieces
1 cup crumbled feta cheese
1/2 cup pitted kalamata olives, sliced
2 tablespoons olive oil
2 cups chopped plum tomatoes (I omitted the tomatoes)
Preheat oven to 350 degrees. In a large bowl, combine cream of chicken soup, cooked chicken, zucchini, broth, red onion, garlic and Greek seasoning; mix well. Spoon into an un-greased 9×13 baking pan or dish. (I used an 8*8)
Bake, covered, about 30 minutes or until vegetables are almost tender. Uncover and stir.
In a medium bowl, toss together pita bread pieces, feta, olives and oil. Sprinkle pita mixture and tomatoes over chicken mixture. Bake, uncovered, about 20 minutes more or until top is golden brown.