I'm not quite sure where I first came across this recipe but I forgot to blog about it last time I made them. I made these Oreo Truffles for our Girl's Night last week. I tried to make them slightly not so bad by using reduced fat Oreos and fat free cream cheese. Either way, they are delicious and obnoxiously rich. Yum.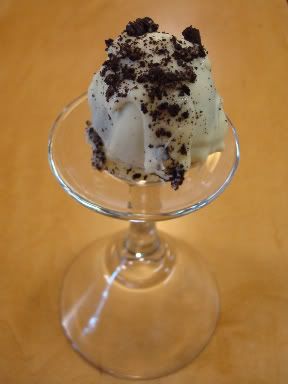 Oreo Truffles
1 package of Oreo Cookies (minus eight)
1 8-oz. package of cream cheese, softened
1 bag of Ghirardelli white chocolate chips
1/2 tsp. vegetable oil.
Place all of the Oreos (minus eight) in a food processor and blend until nothing but crumbs remain.  Depending on the size of your food processor, you may have to do this in batches.  Pour crumbs into a large mixing bowl.  Add cream cheese and mix with your hands until completely combined.  Using your hands, roll mixture into ping-pong (or smaller) sized balls.  Put on a cookie sheet covered in parchment paper and refrigerate for 30 minutes to 1 hour (the longer the better).
Melt 1 bag of chocolate with one 1/2 tsp. of oil in a large sauce pan over medium-low heat.  Once chocolate is melted remove from heat.  Roll 1 ball in chocolate, covering completely and return to wax paper.  Repeat with 1/3 of your chocolate balls.  Start process over with another bag of chocolate and repeat with second 1/3 of balls.  Finish with final bag of chocolate and remaining 1/3 of balls.  Using a tablespoon, flick/stripe remaining chocolate over tops of balls to decorate (mixing and matching the different colors for contrast).  Return coated balls to refrigerator for another 15-30 minutes to set.
Store in an air-tight container, and refrigerate when not serving.