This really shouldn't even be called a recipe. I threw this together for Girl's Night and it went over pretty well. I love all the flavors used in Greek cooking so I tried to pull them all together in this pasta salad.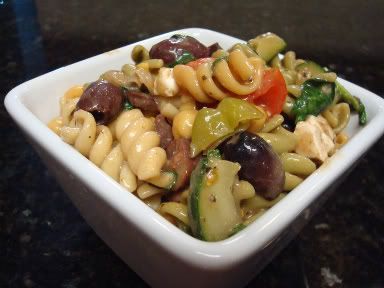 Greek Pasta Salad
1 lb of small shaped pasta (I used rainbow Rotini)
1 bottle of Fat Free Balsamic Vinaigrette
1 container of reduced fat Feta cheese
1/2 Cup chopped Kalamata Olives
handful of grape tomatoes, quartered
1/2 of a cucumber, seeded & diced
1 bag of baby spinach, chopped
handful of banana peppers, chopped
1 can of chickpeas, drained & rinsed
juice of 1/2 a lemon
Cook and drain pasta while you chop vegetables
In a large bowl, combine cooled drained pasta, vegetables, lemon juice, cheese, and dressing
Let sit for at least an hour for the flavors to come together.