I came across a new food blog last week, Culinary in the Desert. There are quite a few recipes on there that I am going to have to try. Trying to think of what to make for dinner last night, I realized that we had everything that this recipe needed. Problem solved. And I always look for a reason to use some laughing cow cheese. This made for a great sauce. I hope you enjoy it!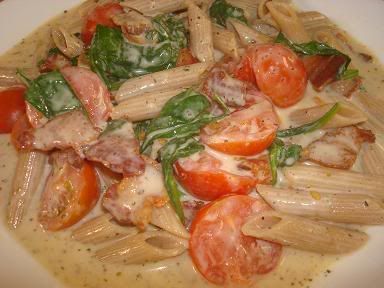 BLT Penne Pasta Toss
8 ounces dry whole wheat penne pasta
4 ounces Laughing Cow Swiss Cheese Wedges, cut into cubes (use cream cheese, if desired)
1 cup milk
1 ounce fresh grated Parmesan cheese
4 slices bacon, cooked and crumbled
2 cups fresh baby spinach
1 cup grape tomatoes
1 teaspoon Italian seasoning
1/8 teaspoon fresh grated nutmeg
In a large pot of boiling salted water, add pasta and cook according to package directions. Drain.

Meanwhile, in a large skillet, add Laughing Cow cheese, milk and Parmesan - heat over medium-high, whisking constantly, cheese melts and the mixture is well-blended, about 3 to 5 minutes. Stir in bacon, spinach, tomatoes, Italian seasoning and nutmeg - reduce heat to medium and cook, stirring, until thoroughly heated through, about 5 minutes. Remove sauce from heat, add drained pasta and toss well to coat. Season to taste with salt and fresh ground black pepper, if desired.

 


2 servings. Each serving =481.5 calories, 14.6 g Fat, 43.7 mg Cholesterol, 993.8 mg Sodium, 58 g Carbohydrates, 27.7 g Protein