This recipe comes from Michelle's blog, Sugar & Spice. Last Weekend, I was looking for a new Crockpot recipe and came across this one. The beef turned out super moist and really tender. However, I realized I am not a big fan of pearl onions. I much preferred the sliced onion in here. Cancy said he liked it though so I have a feeling we'll be making this again. It has sort of a retro feel to it, like 1950's housewife & I appreciate that.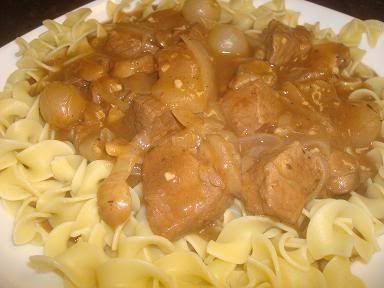 Beef Burgundy
1 (10-ounce) package fresh pearl onions
1 (2-pound) top round steak, trimmed and cut into 1 1/2-inch cubes
2 1/2 cups sliced onion (1 large)
1 garlic clove, minced
Cooking spray
1/3 cup all-purpose flour
1 1/3 cups less-sodium beef broth
1/2 cup Burgundy or other dry red wine
2 tablespoons tomato paste
1/2 teaspoon dried thyme
1/2 teaspoon salt
1/4 teaspoon black pepper
1 bay leaf
1 (8-ounce) package mushrooms
3 cups hot cooked medium egg noodles (about 4 cups uncooked pasta)
Thyme leaves (optional)
1. Drop pearl onions in boiling water; cook 1 minute. Drain onions; peel.
2. Heat a large nonstick skillet over medium-high heat. Add steak; sauté 5 minutes or until browned. Place steak in a 3-quart electric slow cooker. Add sliced onion and garlic to pan; coat with cooking spray, and sauté over medium-high heat 5 minutes or until tender. Lightly spoon flour into a dry measuring cup; level with a knife. Sprinkle flour over onion-garlic mixture; cook 1 minute, stirring constantly. Gradually add broth, wine, and tomato paste, stirring constantly. Cook 1 minute or until thick. Add pearl onions, dried thyme, salt, pepper, bay leaf, and mushrooms.
 3. Pour wine mixture over steak in cooker. Cover and cook on LOW 6 to 7 hours. Discard bay leaf. Serve over noodles or mashed potatoes. Garnish with thyme leaves, if desired.
4  servings. (Nutritional info does not include noodles or potatoes) Each serving = 327 calories, 7.1 g Fat, 97 mg Cholesterol, 358.3 mg Sodium, 17.7 g Carbohydrates, 42.9 Protein