I found this in my Google Reader one day and starred it so that when the craving for lamb struck again, I'd have a great plan for it. This was a very flavorful meal that both Cancy & I really liked. It looks like a lot of ingredients, but it all comes together super easy. I think you'll like it.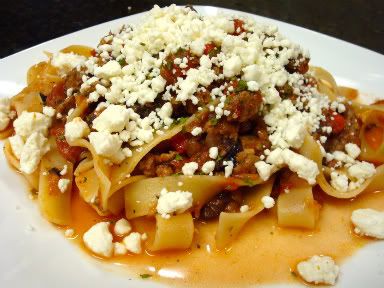 Pasta with Meat Sauce (The Greek Way)



1/4 cup olive oil





2 cloves garlic, minced





1 teaspoon red chili flakes





2 bay leaves





1 pound ground lamb





1 onion, chopped





1 teaspoon oregano





1 28 oz. can tomatoes, chopped





1/2 cup red wine, or more if the sauce gets a little thick





2 red bell peppers, roasted, skinned and chopped





1/2 cup kalamata olives, sliced





1/4 cup pine nuts, toasted





1/2 cup feta cheese





1/4 cup parsley, chopped



Saute garlic, chilies and bay leaves in olive oil for 2 minutes. Add lamb and onion and cook until onion is translucent and meat is slightly browned. Add tomatoes, oregano and wine and simmer for 20 minutes. Add peppers and olives and simmer another 20 minutes. Add parsley and season with salt and pepper.

Serve over pasta and garnish with pine nuts, crumbled feta cheese and additional chopped parsley. Add crusty garlic bread because you won't want to leave a single drop of the sauce on your plate.