When you ask your sweet husband to go pick up some crab from the store, nothing is more nice than coming home to him cooking away so you have a night off. So there isn't much of a recipe below... The Crab Boil should give you the basics. This is how Cancy put it all together. Enjoy!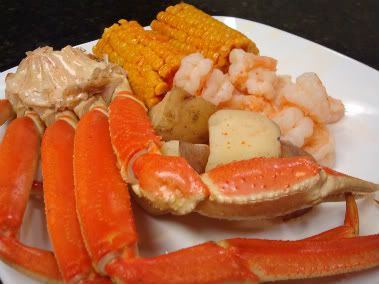 Crab & Shrimp Boil

2 clusters of snow crab legs
1/2 pound peeled & deveined shrimp
2 ears of corn, halved into 2 pieces each
4 or 5 small red potatoes, cut each into about 4 pieces
Zatarain's Crab & Shrimp Boil (dry)
Using the recipe on your Crab Boil, you'll want to cook the corn and potatoes first, give the crab about 20 minutes, and the shrimp about 5.