These are so easy & fast. It's like naughty, greasy chicken wings, but way better for you. I saw these on another cooking blog called LovesToEat's weblog. I changed her recipe up just a little bit, but be sure to check out the original as well.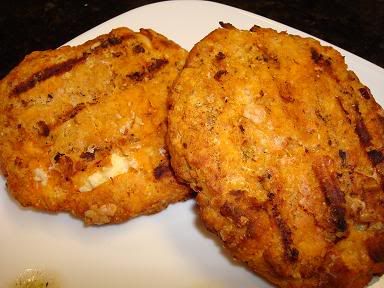 Buffalo Wing Burgers
1/4 – 1/2 cup hot sauce (Franks Buffalo Hot Sauce is great)
1/2 cup crumbled blue cheese
1/4 – 1/2 cup bread crumbs (use these to help hold it all together)
Burger buns (if you're watchin' your carbs, skip these)
Combine the ground chicken, hot sauce, blue cheese and bread crumbs.
Shape into patties.
Grill until done and serve on burger buns.