The first time I've ever had Arroz Con Pollo was when our neighbor brought some over for us to try. This was authentic, delicious, and hard to beat. When I saw this recipe from Tricia pop up in my Google Reader, I knew I had to get brave and try it out. The only thing I changed from Tricia's was that she used boneless skinless chicken breasts & I used skin-on chicken thighs. Maybe not the healthiest route, but I think thighs add a little more flavor & richness.
The Goya Sazon & Sofrito really make this dish work. If you are going to make this, be sure to hit up your International aisle at the grocery store or you can always hit up their web site. It's worth it.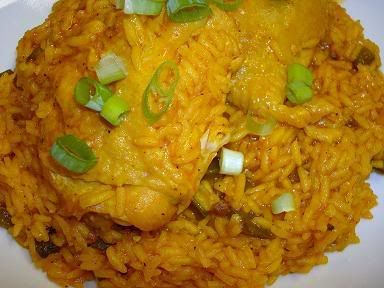 Small package of chicken thighs (our came with 4)
oil
2 packets Goya Sazon
3 1/2 cups water
about 1/2 cup Goya Sofrito, or more to taste (1/4 - 1/2 of the jar)
1 Tbsp kosher salt (or to taste)
1/4 tsp ground black pepper
2 tsp garlic powder (or more to taste)
3 cups long grain rice
Diced jalapeno to taste - for spicy, add about 2 heaping spoonfuls (we used jarred diced jalapenos)
Heat oil in large nonstick pot. Add chicken and cook over medium heat until cooked through.
Open 1 packet of Sazon and sprinkle half of the packet over the chicken. Stir to coat.
Add water, the rest of the 2 packets of Sazon, the Sofrito, salt, pepper and garlic powder and stir. This is when you start tasting. You're aiming for a salty, garlicky seasoned taste. I added 1 Tbsp of kosher flake salt and felt it needed some more. If you undersalt, you can always add salt to your individual serving when it's done.
Once you have a nicely seasoned pot of water, add in your rice and jalapenos and stir. If your rice starts to stick, add some extra oil. Because we used chicken thighs, I guess they we're enough to keep the rice from sticking. Keep stirring over medium-low heat until about 1/2 of the water is absorbed. Cover and set the heat to low.
Stir every 5 minutes and re-cover - but here's the tricky part - after all of the water is absorbed, the rice in the bottom of the pot will begin to get crispy. You want to avoid stirring the crispy rice into the rest of the rice. Unless, of course, you like crispy rice. So when you stir, do so gently when reaching to the bottom of the pot.
After about 20-30 minutes, your rice should be steamed perfectly - once you get to 20 minutes, just start tasting it to check for doneness.