I needed something to go with my Minestrone & I saw the recipe for these last week on Michelle's blog. They looked so good. Now I cheated a little bit by using Turkey Pepperoni to try to keep it a little bit healthier. Cancy says he couldn't taste the difference.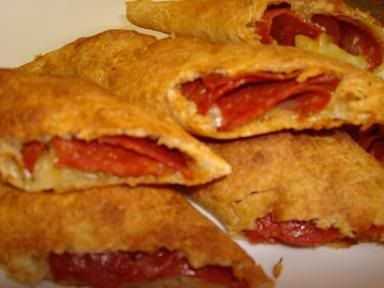 Pepperoni Rolls
1 loaf Pillsbury Refrigerated French bread dough
Sliced Pepperoni (or Turkey Pepperoni)
Butter
Italian Seasoning & Garlic/Parsley salt
Shredded mozzarella cheese
Take the dough out of the container & lay it flat. Cut it in half & roll out two rectangles. Spread a little butter over the dough. Sprinkle that with some Italian Seasoning & Garlic/Parsley salt. Layer the pepperoni on the dough, and then cover with mozzarella cheese.
Roll up lengthwise and seal the ends and seam and place seam-side down in a baking pan (I used my Pampered Chef Stone).
I baked them at 350 degrees for about 30 minutes.