This something I've been making for awhile. It's super easy for those nights when you don't feel like spending forever in the kitchen. If you can find the fat free croutons, it's also a fairly healthy italian dish. I hope you like it.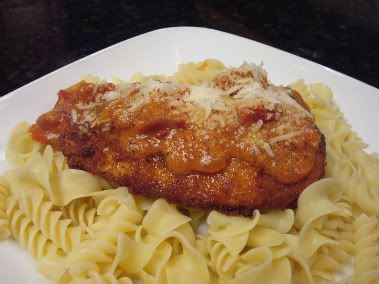 Italian Chicken & Marinara

Chicken
2 Chicken Breasts
1 egg, whisked
1 pkg of croutons, I used fat free seasoned croutons, crushed
Marinara
1 16oz can of tomato sauce
1 Tbsp butter
1 Tbsp minced garlic
1/2 tsp salt
2 tsp each basil & oregeno
4 Tbsp of fat free 1/2 & 1/2
Prepare chicken breasts by dipping in whisked egg, then dredging in crushed croutons.
heat abut 2 Tbsp of olive oil in a medium pan and use this to pan fry breaded chicken.
Saute garlic in the butter until the edges of the garlic begin to brown. Add tomato sauce, salt & herbs. Simmer until ready to serve. Add the 1/2 & 1/2 and heat through just before serving.
Boil 2 servings of pasta until al dente
Lay pasta on plate, set chicken breast on top and pour marinara over top.