I had been meaning to make
this recipe
for awhile and kept forgetting to plan for the marinade time. This is key people, the marinade is what makes this chicken taste so good. You really need to give it overnight to fully get all of the flavor it needs.
This was a super easy meal ( once you had the chicken marinated ) We put it together in just a few minutes and then we cooked the rice while the chicken skewers grilled. Use a rice cooker & you won't even have to heat up your kitchen to make this.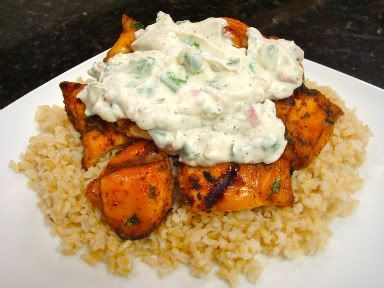 *Chicken Skewers
2 lbs boneless skinless chicken breasts (about 5 medium breasts)
1/4 cup light brown sugar, packed
2 tablespoons fresh cilantro leaves, minced
1 chipotle chile in adobo, minced
2 teaspoons adobo sauce
1 1/2 teaspoons salt
1/2 teaspoon chili powder
1/4 teaspoon garlic powder
1/4 teaspoon ground black pepper
nonstick cooking spray
* Dipping Sauce
3/4 cup low-fat sour cream
1/4 cup reduced-fat mayonnaise
1/4 cup lime juice, from 2 to 3 limes
1/8 teaspoon garlic powder
2 tablespoons cilantro leaves, minced
2 scallions, minced
1/2 teaspoon salt
1/8 teaspoon ground black pepper
FOR THE CHICKEN: Slice the chicken breasts across the grain into 1/2-inch-thick strips (you should have about 30 strips). In a large bowl, toss the chicken with the brown sugar, cilantro, chipotle, adobo sauce, salt, chili powder, garlic powder, and pepper. Cover tightly with plastic wrap and refrigerate until the flavors meld, about 30 minutes. (The chicken, covered, can be refrigerated for up to 1 day before cooking.).
FOR THE DIPPING SAUCE: In a bowl, stir all the ingredients together. Cover with plastic wrap and let stand at room temperature until the flavors meld, about 30 minutes. (The dipping sauce can be covered and refrigerated for up to 2 days. Season with additional lime juice, salt, and pepper to taste before serving.).
Meanwhile, weave each piece of chicken onto individual skewers; We used metal skewers so we didn't have to worry about the ends, but if you use bamboo skewers, just cover the ends with foil so they don't burn. Grill until the meat is lightly browned and cooked through, 5 to 8 minutes, flipping the skewers over halfway through. Transfer the skewers to a serving platter and serve immediately with half the dipping sauce.
We served the chicken and sauce over a bed of Jasmine Rice. It was delicious!