I've been seeing this recipe on a few different blogs. It looked pretty good so I thought I'd try the original. You can see Rachel Ray's original here. This turned out so yummy!!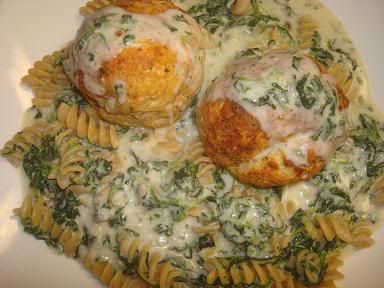 Florentine Mac and Cheese and Roast Chicken Sausage Meatballs
Salt
1 pound cavatappi corkscrew shaped hallow pasta
1 1/2 pounds ground chicken
Black pepper
2 to 3 sprigs fresh rosemary, leaves stripped and finely chopped
2 teaspoons fennel seeds
3 cloves garlic, grated
1 teaspoon crushed red pepper flakes
1 cup ricotta cheese
1 1/2 cups grated parmesan, divided
1 egg
3/4 cup bread crumbs, plus more, if needed*
3 tablespoons extra-virgin olive oil, divided
2 boxes, 10 ounces, chopped frozen spinach
3 tablespoons butter
2 tablespoons all-purpose flour
1 cup chicken stock
1 cup whole milk
1/8 teaspoon grated nutmeg, eyeball it
Preheat oven to 450 degrees F.

Place a large pot of water on to boil for pasta. When it comes to a boil, salt it and add the pasta to cook to al dente. Strain pasta reserving 1 cup cooking liquid.
While the water is coming to a boil, in a large mixing bowl combine the chicken, salt and pepper, rosemary, fennel seeds, garlic, crushed red pepper flakes, ricotta cheese, 1/2 cup grated parmesan - a rounded handful, egg and bread crumbs. *If the mixture seems too wet, add a handful of bread crumbs and mix together.
Form 8 large round balls, about 3 to 4-inches. Coat balls in a couple of tablespoons of extra-virgin olive oil and lightly grease a baking sheet with 1 tablespoon extra-virgin olive oil. Arrange balls on the baking sheet and roast 17 to 18 minutes until juices run clear.
Defrost spinach in microwave 8 to 10 minutes on "defrost" setting depending on the microwave. Place the boxes in a shallow dish to catch any run off.
While the meatballs roast, in a medium sauce pot over medium heat, melt butter, whisk in flour, cook 1 minute then whisk in stock and milk, season with salt, pepper and nutmeg and thicken 5 to 6 minutes. Stir in the remaining 1 cup grated parmesan and reduce heat on lowest setting.
Wring spinach completely dry in clean kitchen towel then separate as you add it to the sauce. Also add the reserved 1 cup pasta cooking liquid.
Toss pasta with the spinach-white sauce and adjust seasonings.
Serve Florentine Mac-n-Cheese with 2 meatballs per person along side.