This
recipe
popped up in my Google Reader and I knew I had to make it. We already had everything on hand so it was really convenient. We didn't really feel like the corn would be a good fit in here so we left it out. We may try it next time. All in all, this dish was easy to put together, Cancy loved it, & it made for good leftovers too. I hope you like it.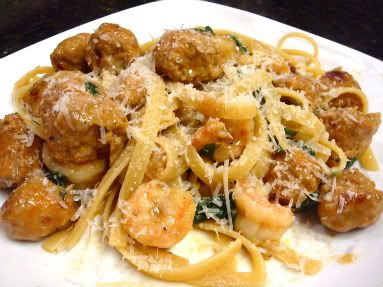 Spicy Shrimp, Sausage, & Spinach Fettuccine

1 pound fettuccine
olive oil

1 medium onion, chopped, about 1 cup

3 links of hot Italian sausage, removed from casing, about 1/4 pound

2 large garlic cloves, chopped

1 1/4 pounds of large shrimp (21 - 25/pound), peeled and deveined

4 large handfuls of baby spinach, about 4 cups loosely packed

1 cup corn ( i left this out )

1/2 cup pasta water

1/2 - 1 cup Parmesan cheese, freshly grated and not packed, plus more for serving

salt & 
pepper


Cook fettuccine in a large pot of water according to package directions. Drain pasta, reserving 1/2 cup of the pasta cooking water. Set aside.


While the pasta cooks, heat a large saute pan over medium high heat. Add 2 tablespoons of olive oil and onions and saute for about 5 minutes. Add the sausage in small pieces and the garlic and cook until until the sausage is cooked and browned.

Add shrimp to pan and cook for 2 - 3 minutes. Add spinach and cook for 3 - 4 minutes or until it is slightly wilted. Add corn and pasta water to saute pan and scrape up any bits cooked on to the bottom of the pan.
Add pasta and toss to mix. Season to taste with salt and pepper.
Place in a serving bowl and top with Parmesan cheese. Serve with extra cheese.