I saw this grilled cheese recipe in last month's
Every Day with Rachael Ray
, November'09. I'm a huge grilled cheese fan so I thought I'd give it a try. The day I wanted to make them it was a little chilly outside (OK chilly for Texas, anyway). I thought what's better than just a grilled cheese? So I made a yummy tomato soup to dip the grilled cheese in. Save this when you want a super easy meal on a chilly weeknight.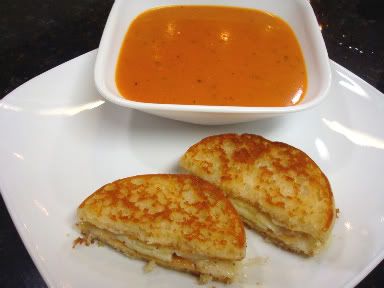 Spicy Tomato Cheese Soup

1 can condensed tomato soup 

1 can condensed Cheddar cheese soup 

3 cups spicy V8

a splash of hot sauce
salt & pepper
Combine all ingredients in a saucepan. Heat over medium heat, stirring occasionally.
Inside Out English Muffin Grilled Cheese

2 English Muffins
4 slices of Sharp White Cheddar
salt & pepper
Heat a skillet over medium-low heat. Lightly Spread the inside of each English Muffin with butter. Arrange the muffins butter side out to build 2 sandwiches, each with a slice of sharp cheddar some salt & pepper, than another slice of white cheddar.
Place them in the pan and cook, turning once or twice, until the cheese is melted and the outsides are a golden brown.