This really isn't a recipe, but more of a great way to get you vegetable servings covered. You can mix this up using whatever vegetables you prefer. This nigh was sort of a "clean out the vegetable drawer in the fridge" night. Cancy even liked vegetables this way. I've found so far that any vegetable tastes better when roasted. Eat & Enjoy!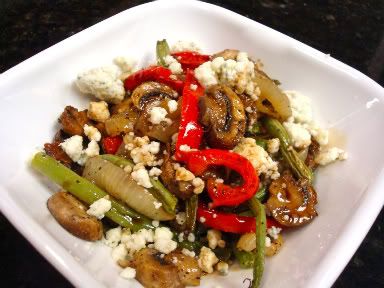 Roasted Balsamic Veggies

about 1/2 lb Fresh Green Beans, ends snapped off
1 Medium Yellow Onion, cut into rings
1 Red Pepper, sliced into strips
1 pkg of Fresh Mushrooms, sliced
Salt & Pepper
Olive Oil
Balsamic Vinegar
small handful of Blue of Feta Cheese
Preheat oven to 425 degrees.
Place vegetables in a Ziploc bag, add salt & pepper and about a Tbps of Olive Oil. Toss.
Lay veggies out on a sheet pan and bake for about 20-25 minutes until roasted & tender.
Serve into individual dishes and splash a bit of Balsamic over top and sprinkle cheese as well.