This is definitely not much of a recipe, but it's my current favorite salad. You can adjust the toppings to your taste. I hope you like it as much as I do.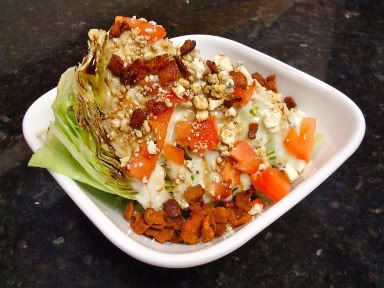 Wedge Salad

1 head of iceberg lettuce, cut into quarters
Your favorite blue cheese dressing
2 tomatoes, chopped
1/2 onion, diced small
1/2 Cup blue cheese crumbles
1/2 Cup bacon, cooked and crumbled
Balsamic vinegar
Place a quarter of iceberg lettuce on a dish. Pour blue cheese dressing over top. Top with tomatoes, onion, blue cheese, & bacon. Drizzle Balsamic vinegar over top. Delish!