I came across this next recipe on Real Simple.com when I was signing up for a subscription today. We had a bunch of spinach in the fridge but not the right sausage. Also, I'm trying to cut out salt wherever I can so I added some other spices to this. I switched up a few other things so I'll have to try the original recipe sometime. You can see the original recipe here & my adaptation is below.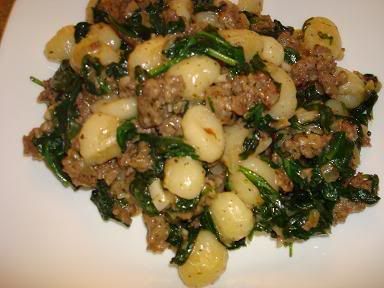 Gnocchi with Sausage and Spinach 
one 17.5-ounce package shelf-stable gnocchi
1 medium yellow onion, finely chopped
1 roll Jimmy Dean Light Sausage (I had to use what we had in the freezer)
3 cloves garlic, finely chopped
1 5-ounce bag baby spinach
1 Tbs Italian Seasoning
1/4 teaspoon black pepper
3/4 cup (3 ounces) grated Parmesan, plus more for garnishing
Cook the gnocchi according to the package directions, reserving 1/4 cup of the cooking liquid.
Meanwhile, heat the sausage in a large skillet over medium heat until browned, crumbling it with a spoon. Add the onion and cook until softened, about 5 minutes.

 

Add the garlic, spinach, Italian Seasoning, and pepper and cook, tossing frequently, until the spinach wilts, about 3 minutes.
Add the drained gnocchi, the reserved cooking liquid, and the Parmesan and toss. Divide among individual bowls and sprinkle with additional Parmesan.