As I was catching up on some blogs today, I kept coming across this recipe. It's actually not much of a recipe at all. You just use any cake mix and any Diet Coke. (No need for oil or eggs here) I backed these in my Pampered Chef mini-muffin pan.
Tonight I used Devil's Food cake mix & Cherry Coke Zero. There are lots of flavor combinations out there. I think the lemon cake mix with Diet Sprite could be good too. Play around with it and let me know if you come up with a favorite combination.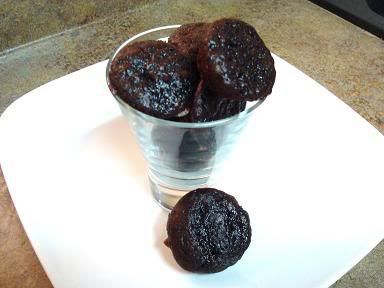 Diet Coke Cupcakes
1 box of cake mix
1 12 oz can of Diet Coke
Empty one bag of cake mix into a bowl. Stir in one can of Diet Coke.
B
ake per the directions on the cake mix box. Voila'.