I made this last weekend to try to stay lean but get my protein in. I am a huge fan of Greek food and by using reduced fat ingredients and salt free seasoning I think I'm more able to fit my love for Greek into my diet. We made this with Grilled Zucchini also sprinkled with Greek Seasoning. Just slice your zucchini into long strips, brush lightly with olive oil, and sprinkle seasoning on before placing on the grill.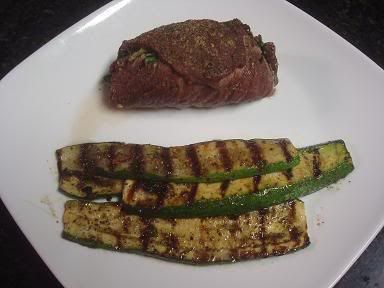 Greek Spinach Feta Steak Pinwheel
2 packages of Beef Round Steak( about ½ pound each
)
½ C Reduced Fat Feta Cheese
4 C Fresh Baby Spinach leaves
Greek Seasoning (I used Cavender's salt free)
Lay each strip of round steak out flat.
Sprinkle each with about 1 tsp of Greek Seasoning.
Cover each with about 2 cups of fresh spinach.
Sprinkle 1/4 Cup of feta on each.
Beginning at one end, roll tightly making sure to keep spinach and feta tucked in. Secure roll with toothpicks.
You can sprinkle additional seasoning on rolls before baking.
Bake in a 350 degree oven for 25-30 minutes.
Let sit for just a few minutes before taking toothpicks out and serving.
2 servings. Each serving = 370 calories, 12.3 g Fat, 139 mg Cholesterol, 540 mg Sodium, 2.5 g Carbohydrates, 58.7 Protein.