We had a beautiful weekend last week so I decided to grill. I'm in the process of completely overhauling the way we eat so I'm tweaking all of the recipes we've used before. In this case, I used low carb wheat tortillas & fat free sour cream. I hope you enjoy these.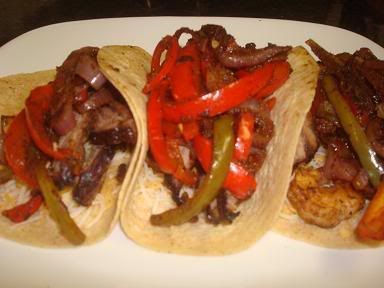 Steak & Shrimp Fajitas
a 12 oz flank or skirt steak
6 large shrimp
Green & Red Pepper (1 each)
2 Jalapeno's
1 large Purple Onion
6 tortilla's (I used low carb wheat tortillas)
low fat cheese and fat free sour cream for topping
Marinate steak in store bought fajita marinade for about 1/2 hour.
Meanwhile, slice green & red peppers into strips, Cut Purple Onion into rings, and slice jalapenos into rings.
Place steak on grill with low heat.
Saute vegetables in skillet over med-high heat.
Skewer shrimp and add to grill during last 5 minutes of steak.
Wrap tortillas in foil and throw onto grill as well.
Slice steak into strips and assemble your fajitas any way you like.
2 servings. Each serving = 615 calories, 21.8 g Fat, 130 mg Cholesterol, 1159 mg Sodium, 41.4 g Carbohydrates, 63.8 Protein.