I've been meaning to make this recipe since I came across it on Melissa's blog who had it from another Melissa's blog. So I altered the original to fit what we liked and had on hand. My version is below and you can see the originals through the links above.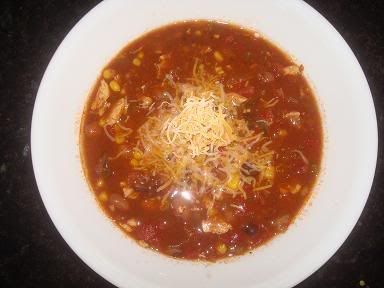 Crockpot Chicken Taco Soup
1 onion, chopped
1 (16 oz) can Ranch Style Beans w/Jalapeno
1 (16 oz) can Black Beans
1 (11oz) can Mexicorn (drained)
1 (8 oz) can tomato sauce
1 (12 oz) bottle of beer; I used Dos Equis
2 (10 oz) cans of Rotel (un-drained; I used 1 hot & 1 normal)
1 packet of taco seasoning
3 boneless, skinless chicken breasts
Place onion, ranch beans, black beans, corn, tomato sauce, beer, & Rotel into the Crockpot. Add the taco seasoning & stir to combine. Lay defrosted chicken breasts on top of the mixture, pressing down slightly until covered by the other ingredients. Set Crockpot for low heat and cook for about 5 hours.
Remove chicken breasts from the soup and allow to cool just long enough to be handled. Shred or dice the cooked chicken and add back into the soup. Allow to cook another ½ hour to 1 hour.
When ready to dish up, you can serve plain or topped with any number of goodies. I added low-fat shredded cheese & guacamole. Cancy added shredded cheese & sour cream. You could also add crushed tortilla chips.
6 servings. Each serving =259.9 calories, 2.1 g Fat, 21.7 mg Cholesterol, 1,573 mg Sodium, 38.2 g Carbohydrates, 17.1 g Protein