I needed something that would be quick and easy to eat in the mornings before heading to the gym. I made these on Sunday and am freezing them for quick breakfast throughout the week. They come together fast, are super low fat, low carb, and good. Warm them up in the morning in the microwave for about 30 – 45 seconds and off you go.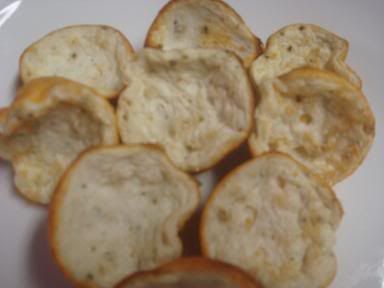 Mini Cheese & Turkey Egg Soufflé
1 Cup of Fat Free Cottage Cheese
6 egg whites (I used EggBeaters Whites Only)
1/2 Cup shredded 2% cheese (Cheddar or Colby)
3 slices of thin sliced roasted turkey (Cut into tiny pieces)
Mrs. Dash or your favorite herbs & spices
Preheat oven to 350 F.
Place Cottage Cheese & Egg whites in your food processor for about a minute.
Add 1/4C of the cheese, blend for 15 seconds
Gently pour the mixture into a bowl and fold in the remaining cheese as well as the turkey and spices.

Spray your muffin tin with non-stick spray. Pour gently into your muffin tin and put in the oven.
If you are using mini muffin tins, they should hold about 1/8 cup of the mixture and bake for 20 minutes.
If you are using normal size muffin tins, they should bake for about 35 minutes.
**I made a combination of both. My "serving size' equals 1 Cup. (8 mini muffin size or 4 normal muffin size)
5.5 servings. Each serving = 101calories, 2 g Fat, 11.8 mg Cholesterol, 450 mg Sodium, 3.5 g Carbohydrates, 15.3 Protein