I always have a package of pork chops in my freezer and I can never think of a good way to use them. I don't remember where I found this recipe. It may have been on the Campbell's soup site. This one turned out pretty well and my lovely husband would eat it again. So if ever you are trying to think of how to use that package of pork chops in your freezer, give this recipe a try.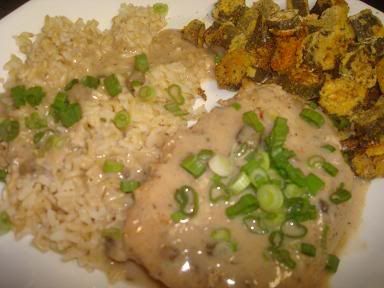 Creamy Ranch Pork Chops & Rice
1 Tbsp Extra Virgin Olive Oil
4 boneless pork chops
1 can of reduced fat, low sodium cream of mushroom soup
¾ C Skim Milk
1 packet of Fat Free Ranch dressing mix
Paprika
1 Green Onion
2 bags of "boil in a bag" Brown Rice
Heat Oil in a skillet, add the pork chops & cook until brown.
Add soup, milk, and about ½ the packet of Ranch Dressing Mix. Bring to a boil.
Sprinkle with Paprika

 

& Cover & cook on low heat for about 10-15 minutes.
Meanwhile, Bring the water to a boil for your rice & sprinkle in the remaining Ranch Dressing Mix.
Add the rice and let cook for about 10 minutes before draining.
When the pork & rice are both ready, drain rice before putting on the plate.
Set a pork chop on top of the rice and cover with sauce from the pan.
I garnish mine with little pieces of green onion before serving.
4 servings. Each serving = 441 calories, 16.6 g Fat, 63.6 mg Cholesterol, 361.4 mg Sodium, 40.7 g Carbohydrates, 28.7 g Protein