For
Joelen's October Tasty Tool event
, she's highlighting crockpots/slow cookers. I try to use my crockpot once or twice a month so I already have a few recipes in this blog with the
Crockpot tag
. However, for Joelen's event I wanted to try something new.
I knew I wanted to make something with chicken and I wanted to use artichokes. I found this recipe on
RazzleDazzleRecipes.com
. It takes all of 2 minutes to throw everything in the crockpot and then you just sit back and wait, enjoying the smell of a home cooked meal that you don't have to work hard for. Enjoy!!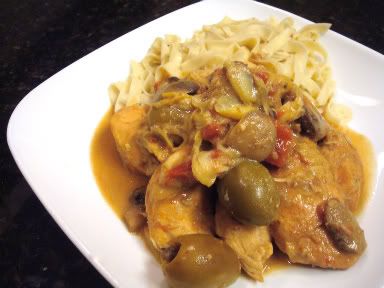 Rustic Chicken



1 to 1 1/2 pounds chicken breast tenders, or boneless chicken breasts cut in 1 inch strips

1 tablespoon real bacon bits (I omitted these)

1 15 ounce can diced tomatoes, drained

1 15 ounce can artichoke hearts, quartered

8 ounces fresh mushrooms, sliced

1 packet dry chicken gravy mix

1/4 cup red wine

2 tablespoons Dijon mustard
** I added about 6 large stuffed Green Olives as well.


Combine all ingredients in a crockpot; stir to combine. Cover and cook on low 6 to 8 hours. Serve over pasta or rice.