We are still working through a freezer full of beef, so
this was
a perfect recipe for us. It looks like a long list of ingredients but if you prep and measure everything out first, you'll move along really quickly through the meal. This has a really great flavor to it. Cancy & I both really enjoyed it.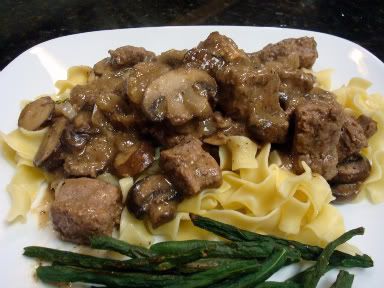 Steak Tips with Peppered Mushroom Sauce
( Originally from
Cooking Light
January 2010 )
3 cups uncooked egg noodles
Cooking spray
1 pound top sirloin steak, cut into 3/4-inch pieces, fat trimmed
1 tablespoon butter
2 tablespoons finely chopped shallots
1 (10-ounce) package presliced baby bella mushrooms
1 teaspoon minced garlic
1 tablespoon Worcestershire Sauce
3 tablespoons all-purpose flour
1 1/2 cups fat-free, less-sodium beef broth
1/2 teaspoon black pepper
1/4 teaspoon salt
3 fresh thyme sprigs
1 teaspoon fresh thyme leaves (optional)
Cook noodles according to package directions, omitting salt and fat; drain.
While noodles cook, heat a large nonstick skillet over medium-high heat. Coat pan with cooking spray. Add steak; sauté 5 minutes, browning on all sides.
Remove from pan; cover.
Melt butter in pan over medium-high heat. Add shallots and mushrooms; sauté 4 minutes.
Add garlic; sauté 30 seconds. Stir in Worcestershire Sauce. Sprinkle flour over mushroom mixture; cook 1 minute, stirring constantly.
Gradually add broth, stirring constantly with a whisk.
Add pepper, salt, and thyme sprigs.
Bring to a boil; cook 2 minutes or until thickened. Return beef to pan; cook 1 minute or until thoroughly heated.
Discard thyme sprigs. Garnish with thyme leaves, if desired