This is a recipe that I made before leaving for last week's trip to Orlando. It comes together really easy and once you start it, you can just sort of forget about it for awhile.
I found this recipe on Katie's blog. It is originally a William's Sonoma recipe. I changed just a few things from the original. I'm not a fan of working with whole chicken, so I used a few boneless/skinless chicken breasts. Also, I didn't have the Chardonnay Reduction on hand from William's Sonoma so I just used regular Chardonnay.  It turned out great. It's a nice Mediterranean light tasting dish. I hope you like it!!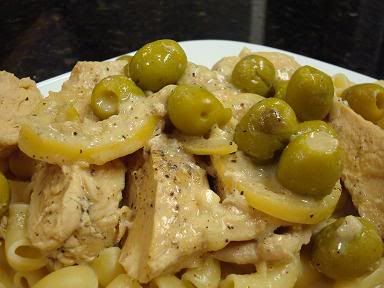 Braised Chicken with Lemon & Green Olives 
3 chicken breasts
Salt and freshly ground pepper, to taste
5 Tbs. extra-virgin olive oil
5 garlic cloves, thinly sliced
1/4 cup Chardonnay wine (The original calls for W.S.'s wine reduction, but I just used plain, straight from the bottle, Chardonnay)
30 picholine or other green olives (I used Italian green olives)
1 lemon, sliced 1/8 inch thick
2 bay leaves
3 1/2 cups chicken stock
1/4 cup chopped fresh flat-leaf parsley
Season the chicken with salt and pepper. In a large pan over medium-high heat, warm the olive oil until almost smoking. Brown the chicken on all sides, 3 to 4 minutes total. Transfer to a plate.
Reduce the heat to medium, add the garlic to the pan and cook, stirring frequently, for 15 seconds; do not allow it to burn. Add the Chardonnay wine and cook, stirring to scrape up the browned bits from the pan bottom, about 2 minutes. Add the olives, lemon slices and bay leaves and cook, stirring occasionally, 4 to 5 minutes.
Return the chicken to the pan, add the stock and bring to a boil. Reduce the heat to low, cover and simmer until the chicken is very tender, about 1 1⁄2 hours.
Taste the sauce and adjust the seasonings with salt and pepper. Garnish with the parsley and serve immediately.