This recipe comes out Rachel Ray's cookbook; Rachel Ray, Express Lane Meals. Make these scallion sticks as a great side dish to the Bacon & Creamy Ranch Chicken Burgers.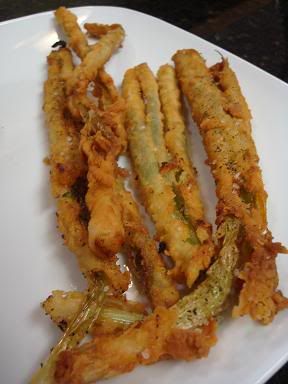 Rachel Ray's Scallion Sticks
Vegetable Oil
2 Cups of buttermilk
1 tsp paprika
All purpose flour
16 to 18 scallions, trimmed of roots
1 1/2 lemons, zested
Heat 1 ½ inches of vegetable oil in a deep sided skillet over medium heat.
In a wide mixing bowl, combine the buttermilk, paprika, and the zest of 1 1/2 lemons. Place the flour in a second wide mixing bowl. (Before you go at it, take one of the scallions & hold it up next to skillet with the oil. If needed, trim off some of the green tops to allow it to fit in the skillet easily.)
Working in 2-3 batches, dip some of the scallions in the buttermilk, then into the flour, coating thoroughly. Put them back into the buttermilk mixture and then into the flour again.
Fry the coated scallions in the hot oil for about a minute on each side, or until golden brown. Transfer to a paper towel lined plate and immediately season them with a little salt. Repeat the process until all of the scallion sticks are fried up.