I've been a bad blogger and not posted anything for awhile.  After our weekend in Port Aransas, TX I ended up going to Orlando, FL for the following weekend for work. So now that I finally have a free weekend, I'm going to play catch-up.
This last week after I got back, I really didn't cook much. Partly, because I was wiped out & well, we had no groceries. So here is one of those "use what you have on hand" meals that goes together super quick. Thanks to Elly for another yummy, easy meal.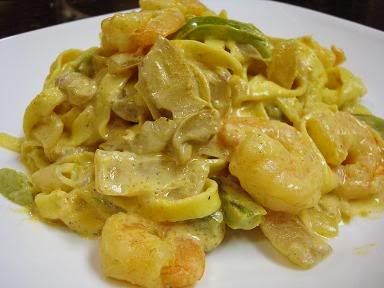 Cajun Shrimp Fettuccine with Cream Sauce
4 oz. cooked fettuccine or pasta of your choice (I used whole wheat)
1 Tbsp. butter
1/2 lb. shrimp, peeled/deveined
4 oz. sliced mushrooms
1/2 small onion, diced
1 cup sliced bell peppers (I used green and red)
2 cloves garlic, minced
2 Tbsp. flour
1/3 cup half and half ( I used fat free 1/2 & 1/2)
salt, pepper and Cajun seasoning to taste

Heat the butter over medium heat in a skillet. Sprinkle the shrimp liberally with Cajun seasoning, and then sauté in the pan for 1 minute per side (you are not cooking it through here). Remove with a slotted spoon.
To the skillet, add the onions, peppers, mushrooms and garlic. Sauté until the vegetables are tender. Add the flour and stir it for a minute or two, to cook off its rawness. Add the half and half and stir, thickening. Put the shrimp back into the skillet to cook through. Season to taste with salt and pepper (and more Cajun seasoning, if desired). Toss with hot pasta and serve.