Another delicious recipe from Pioneer Woman. This recipe was submitted by a Pioneer Woman reader for her Dairy Contest. It was one of the top 5 finalists. I changed the quantities a bit since I was just cooking for Cancy & I. We had this with breaded & baked Zucchini and it made for a really light, healthy dinner. Thanks again Pioneer Woman!!!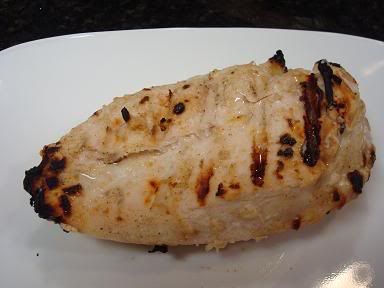 Indian Grilled Chicken Marinated in Milk/yogurt
Chicken pieces ( I used a couple of large chicken breasts )
1 Cups Plain yogurt
1 Cups 2% Milk
1 1/2  Tbsp Garam Masala spice
(I ordered Garam Masala from Penzey's but I know SuperTarget carries it too)
Kosher Salt & Black Pepper

Marinate chicken OVERNIGHT in a mixture of all ingredients.
Heat grill to around 300-400
Place chicken skin down on grill and bake for until internal temp is 140.
Flip chicken over and continue to bake until chicken has reached 165 F for at least 4 minutes.

Remove from grill and let it "rest" for at least 3 minutes.