I found these Protein Bars on Lindsey's blog. She's got some great workout tips on there as well as some basic routines. These protein bas make for a great mid day snack in taste a lot better than some of the protein shakes out there. I keep these in the fridge and usually take one to work each day for that lull between lunch and the end of the day.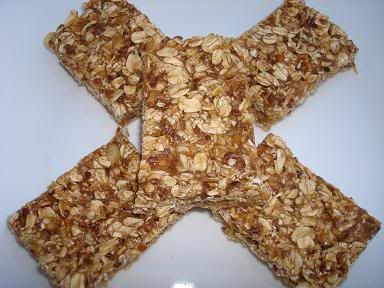 No-Bake Protein Bars
1/2 cup natural peanut butter
2 cups old-fashioned rolled oats
4 scoops chocolate protein powder
2 tablespoons flax seed
6 tablespoons milk
Mix all ingredients in a large bowl. Spread into a greased 8×8 glass dish and refrigerate until firm enough to cut. Cut into 9 squares, wrap individually, and store in refrigerator.