I turned this into a crockpot meal. Really, all I did was let the chicken pieces go in the broth, onion, & garlic for a few hours, until it was shred'able.  Right before I took the chicken out, I browned the chorizo, onion, & garlic. I added it all back to the crockpot and let simmer together for another hour. Sorry this is not more precise, but I just tried to break the steps out for the crockpot similar to the order the original recipe has it.
However, if you are looking for precise, feel free to check out the below recipe at the Taste Of Home Cooking blog.  :)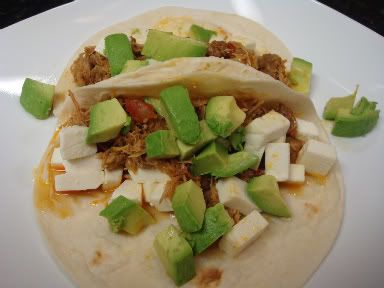 Tinga Poblana with Chicken



William-Sonoma Mexican Cookbook





1 lb bone-in, skin-on chicken thighs (DON'T substitute with chicken breasts or boneless, skinless!)





1 white onion, 1/2 cut into large cubes, 1/2 finely diced





4 cloves garlic, 2 smashed, 2 minced





Salt





1 tablesooon cooking oil





1/2 lb chorizo, casings removed and crumbled





1 can chopped tomatoes (if in juice, drain. If in sauce, don't drain)





1 teaspoon dried Mexican oregano





2 bay leaves





2 canned chipotles en adobo with 1 tablesoon sauce, diced (we used half this amount and it was plenty spicy)





Garnishes:





mince white onion





diced avocado





sour cream



Place the chicken, onion chunks and smashed garlic in a saucepan and add water to cover. Add 1 teaspoon salt and bring to a boil over high heat, skimming off any foam that forms on the surface. Reduce the heat to medium-low and simmer, uncovered, until the chicken is opaque throughout, 20-30 minutes.

Using tongs, transfer the chicken to a plate. Reserve the broth. When the chicken is cool enough to handle, remove and discard any skin or fat or bones and coarsely shred the meat with your fingers or a fork.

In a large frying pan or Dutch oven over medium heat, heat the oil. Add the chorizo and fry for about 5 minutes. Remove the excess rendered fat. Add the finely chopped onion, garlic and saute until beginning to soften, but not yet starting to brown, about 1 minute. Add about 1 cup of the reserved chicken broth, deglaze the pan. Add the shredded chicken, tomatoes, oregano, bay leaves and chiles. Stir until blended. Simmer, uncovered, until the flavors are blended, about 15 minutes. Add more broth to the pan if the mixture begins to stick, but do not add too much; the mixture should absorb the liquid and not be runny. Remove and discard the bay leaves and season to taste with salt.