I was on the website for my grocery store when I saw
this recipe
. The ingredients looked simple enough, plus I already had most things on hand. It turned out great. It's a super easy, really tasty curry. Great for a rushed weeknight. We served this with Jasmine Rice & Garlic Saute'd green beans.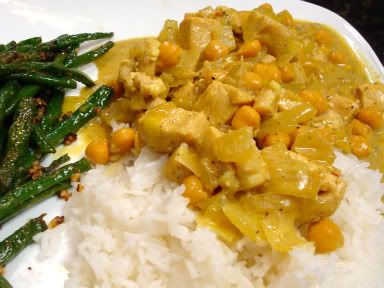 Coconut Chicken Curry

1 pound boneless, skinless chicken thighs
salt and ground black pepper
1 tablespoon oil
2 onions, diced
2 teaspoons curry powder
1 medium tomato, seeded and diced (1 cup)
1 14 ounce can unsweetened coconut milk
1 teaspoon cornstarch
1/4 cup minced fresh mint leaves
Season chicken with salt and pepper.
Heat oil in a large skillet over medium heat. Cook chicken 8 to 10 minutes per side or until done (when internal temperature of chicken reaches 165 degrees). Remove chicken to a plate and set aside. Dice onions while chicken cooks.
Add onions to skillet; cook onions in pan juices 10 minutes or until very soft. Stir in curry powder and cook 1 more minute. While onions cook, cut cooked chicken into bite-sized pieces. Dice tomato. Chop mint leaves very finely to mince.
Stir chicken, tomato and milk into skillet with onions. Cook 2 to 3 minutes to thicken slightly and reduce. Combine cornstarch with 1 tablespoon water; stir into skillet mixture to thicken. Remove skillet from heat.
Season with 1 teaspoon salt and 1/2 teaspoon pepper, or to taste; stir in mint. Serve while hot.