In the never ending quest to get my husband to eat more vegetables, I thought I would try something a little different with green beans. The grocery stores around here lately have had fresh green beans. If you don't have access to fresh you can still do the recipe, just skip the steaming process.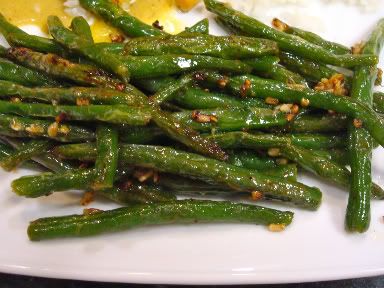 Garlic Sautéed Green Beans

1 lb fresh green beans, ends snapped off
5 or 6 cloves of garlic, minced (you can do more or less depending on your tastes. We like garlic so we did closer to 8 cloves)
Olive Oil
Ziploc Steamer Bag
Rinse the green beans after snapping off the ends. Place in the steamer bag and microwave for about 3 minutes.
While they are in the microwave, heat about 1-2 Tbsp of Olive Oil to medium high heat.
Toss green beans in hot pan and add a sprinkle of salt as well as all of the garlic. Toss over medium high heat just until the garlic starts to brown.
Delish!