I found this recipe in the February issue of Every Day with Rachael Ray. I'm a big fan of Feta cheese & this just looked like such an interesting combination of flavors. I halved the recipe & it still ended up making quite a bit so be prepared to share (or just freeze those leftovers).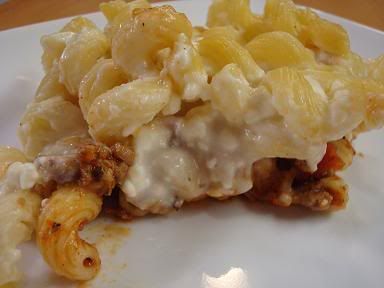 Beef & Feta Pasta Bake
1 pound of Cavatappi Pasta
2 Tablespoons butter
2 Tablespoons flour
2 Cups of Milk, heated
3/4 pound of Feta Cheese, crumbled
3 Cups of Meat Sauce
1/4 teaspoon ground cinnamon
1/4 teaspoon ground cloves
1/4 teaspoon sugar
Preheat the oven to 350°. In a large pot of boiling, salted water, cook the pasta until al dente; drain.

Meanwhile, in a medium saucepan, melt the butter over low heat. Whisk in the flour for 2 minutes. Increase the heat to medium, whisk in the hot milk and cook, whisking, until thickened, about 5 minutes. Stir in the feta.
In a large bowl, combine the meat sauce, cinnamon, cloves and sugar; stir in half of the pasta. In another large bowl, stir together the feta sauce and the remaining pasta. Transfer the meat-coated pasta to a 9-by-13-inch baking dish; top with the feta-coated pasta. Bake until golden, about 30 minutes.