We're still in Port Aransas. We had a great seafood meal last night. For as many time as we've been to Port A, we've never been to Trout Street. It's right next to Virginia's and is on the water as well. Last night, it was really breezy & chilly so we ate inside, but the do have a big deck if you decide to try them out on a nice day. So here is our dinner at
Trout Street Bar & Grill
in Port Aransas.
I had the Shrimp Embrochette. Basically it's bacon wrapped shrimp stuffed with Parmesan and slices of jalapeno & then grilled. The shrimp were huge. I shared with Cancy and was completely stuffed by the end of dinner. The rice that came with it was good as well, but the shrimps were so filling, I could barely finish anything else.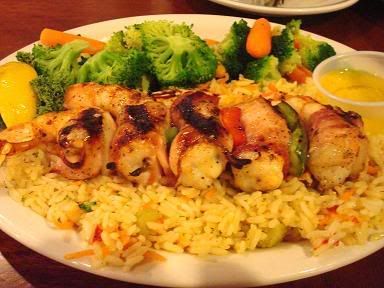 Cancy had the 1pound of King Crab legs. The crab legs were huge. I tried a few pieces of the crab as well and it was cooked perfectly.  Cancy was also stuffed by the time we left the restaurant. I think we are officially seafood'ed out for a little while.
They had a really cool mural up above the bar...
and the general interior of the restaurant, itself was nice & cozy...
This is a great place to come check out if you ever find yourself in Port Aransas.