Mary sent this recipe to me almost 6 months ago. I've had it filed away in my Outlook folders and just recently was able to remind myself to try it. We've been having a very warm February so far, so why not bust out the grill.
It was a great little bit of tropical flavor with the mango & pine nuts. The cumin seemed like a lot when first making the herb mixture but it turned out to be just perfect when everything came together at the end. The chicken was cooked & seasoned perfectly & the rice had just the right amount of spice to it. Cancy & I both really liked this recipe. Thanks Mary!!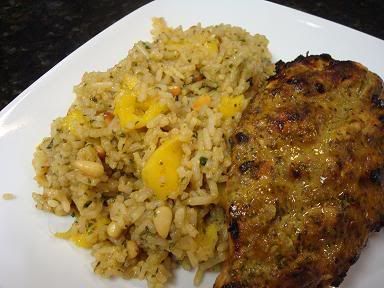 Mary's Mango Chicken
1/2 cup chopped fresh cilantro
1/2 cup chopped fresh parsley
4 garlic cloves
1 tablespoon ground cumin
1 tablespoon sweet paprika
1 tablespoon coarse kosher salt
1/2 teaspoon cayenne pepper
1/2 cup olive oil
1 cup plain whole-milk yogurt
1/4 cup fresh lemon juice
2 (2 1/2-pound) chickens, quartered
2 large ripe mangoes, peeled; 1 cut into 1/2-inch-thick slices, 1 cut into 1/2-inch cubes
2 cups jasmine rice
3 cups water
1/2 cup pine nuts, toasted
6 fresh cilantro sprigs

Purée first 7 ingredients in processor. With machine running, gradually add oil through feed tube and process until blended. Transfer 1/4 cup herb mixture to small bowl; reserve. Add yogurt and lemon juice to remaining mixture in processor and blend.
Place chicken in 13x9x2-inch glass baking dish. Pour yogurt mixture over chicken; turn to coat. Cover and refrigerate 1 hour.
Prepare barbecue (medium heat). Place chicken, skin side down, on grill. Cover and grill until chicken is cooked through, turning every 5 minutes, about 30 minutes total. Grill mango slices 2 minutes per side; set aside. Meanwhile, combine rice, 3 cups water, and reserved 1/4 cup herb mixture. Bring to boil. Reduce heat to low; cover and simmer until tender, about 15 minutes. Remove from heat; let stand, covered, 5 minutes. Fold in mango cubes and pine nuts.
Arrange chicken on large platter; garnish with grilled mango slices and cilantro sprigs. Serve mango jasmine rice alongside.