Our little young lady dog turned 4 on New Year's Eve. We celebrated her birthday with a doggy cake. Everything in here is perfectly fine for people, but uh, I'm not a big fan of chicken baby food. Chile loved it and that's what's important. Happy Birthday Chile!!!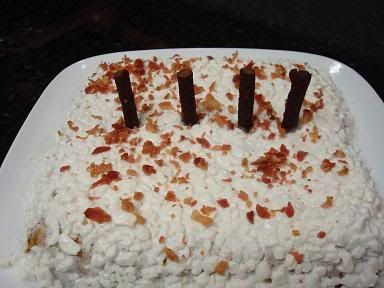 Bacon Chicken Birthday Cake
1 1/2 cups whole wheat flour
1/2 T. baking powder
1/4 cup margarine, softened
3 eggs, beaten
1/4 cup corn oil
1 jar strained chicken baby food
1 cup finely shredded carrots
Fat free cottage cheese
2 or 3 strips of bacon, fried crisp, then crumbled
Generously grease and flour an 8"x8" cake pan; set aside.
Combine flour and baking powder; set aside. In a mixing bowl, beat softened margerine until smooth. Add eggs and corn oil; mix well. Add strained chiicken, and shredded carrots and mix until smooth. Add flour mixture and mix thoroughly.
Pour batter into the prepared cake pan. Bake at 325° for 30-35 minutes. Let cool for a few minutes before removing from pan. Cool completely on wire rack.
Place cake on a serving plate and spread cottage cheese over top & sides. Sprinkle crumbled bacon or bits of jerky strips over top. Use "Pupperoni" sticks for candles.