I can remember having this when I was younger. I think it was just an easy holiday appetizer to do when all of the family was around. It's super easy to make and I wanted something "snacky" for when we had friends stay over on New Year's Eve. There's no real recipe to follow just some basic steps and you can flavor it however you choose.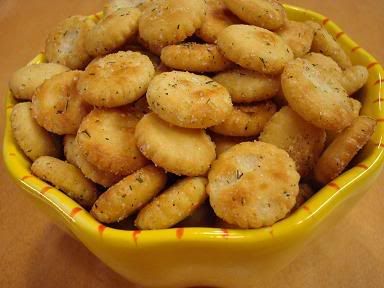 Seasoned Oyster Crackers
1 bag of Oyster Crackers
1/2 Cup of Olive Oil
1 pkg Dry Ranch Dressing
Seasonings: I used about 1tsp lemon pepper grill seasoning, 1 tsp garlic salt with parsley, 1 tsp dill weed, & 1 tsp Jane's Crazy Salt
Basically you just put the oil and your seasonings in a gallon sized Ziploc bag and shake to blend. Once your seasonings are all combined, then add the crackers and shake to coat.
Lay the crackers on a foil lined cookie sheet and bake @ 200 degrees for about 15 minutes.
Let cool and then you are ready to serve.