So… every once in awhile we'll spend a day making enchiladas. And by once in awhile, I mean about once a year. The Enchiladas Verde recipe below comes straight from our friend Rick back in Minnesota. It is an all day labor of love but sooo worth it. Oh, and prepare to make friends because this makes a lot. We ended up taking a pan of these next door to our neighbors since this made about four 9*13 pans full of enchiladas.
The Avocado Enchilada recipe below that is based on marathon-runner Deena Kastor's Avocado Enchilada's recipe. However, I found it at Gillian's Blog and saved it forever… until just the right time. Delish!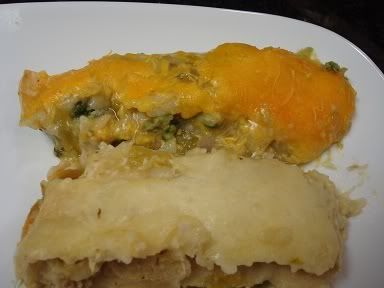 Dos Enchiladas
(Enchiladas Verde has the monterey jack & Avocado Enchiladas have the cheddar)
Enchiladas Verde
3 1/2 to 4 lbs Boneless Chicken Breast
ROASTING YOUR PEPPERS ADDS BEST FLAVOR
12 -24 Fresh Green Chili Peppers OR 4 - 4 oz Canned Diced Green Chili
3 to 5 Fresh Hot Peppers of Choice (Jalapeno, Habanero) or 1 6oz jar
1/4 Cup Flour
8oz Sour Cream
3-4 cans 12oz Green Chili Enchilada Sauce
2lbs Sharp Cheddar Cheese Shredded
36 Count Corn Tortilla
Roast Fresh Hot Peppers in oven @ 350 degrees till skins are dark brown
almost black, peal skins from pepper, dice peppers and add to crock pot
for desired heat. (Jar or Canned Green Chili, Jalapeno or Habanero
Peppers may be used to avoid hassle of above ) Clean chicken breast and
place Chicken Breasts in CROCK POT along with the four 4oz cans of green
chili, Cook on low for 6 - 8 hours or until you are able to shred
chicken.
After Chicken is shredded, remove from heat, add small amounts of flour
to chicken and mix, add just enough flour to absorb liquid, after you
have all liquid absorbed let stand for 10 to 15 minutes. This waiting
period is to keep the sour cream from curdling when added. Add sour
cream.
This is the hard part to explain. In a frying pan add oil to cover
bottom of pan 1/4 inch deep. Heat oil over medium to medium low heat.
You want the oil hot enough to soften the tortilla but not hot enough to
deep fry it. Rule of Thumb: BUBBLES ARE BAD.
Place one tortilla in oil, flip, pull out when soft, drain, add chicken
meat & roll, place into 8x11 pan in two rows. You can get about 12 - 14
enchiladas in pan. Once pan is full of enchiladas Drizzle Enchilada
sauce over enchiladas. 1 1/2 cans per pan usually works well, Cover well
with shredded cheese.
Bake @ 350 for 45 - 60 Minutes or till edges are light golden brown. Let
stand for 10-15 minutes before serving.
~*~  ~*~  ~*~  ~*~  ~*~  ~*~  ~*~  ~*~  ~*~  ~*~
Avocado Enchiladas
2 ripe avocados (slice 'em down the middle lengthwise/along their Prime Meridian and then use a knife to carefully pop the seed out. Scoop the flesh out with a spoon)
1/8 red onion, finely chopped
1/4 cup cilantro leaves, roughly chopped
Lime juice
1/4 jalapeno pepper, seeded and chopped
1/2 tomato, seeded and diced
1 clove garlic, crushed
1/4 tsp. cumin
Salt and black pepper to taste
2 flour tortillas
Enchilada sauce
A little grated sharp Cheddar or Monterey Jack cheese
Additional cilantro leaves
Preheat oven to 350 degrees. Spray a glass baking dish with cooking spray. Smush up the avocado in a glass bowl. Add the onion, garlic, cilantro, cumin, tomatoes, jalapeno, lime/lemon juice, and salt and pepper. Mix together as you would if you were making guacamole (um, this really is a guacamole!)
Spoon the avocado mixture into the tortillas and roll them up. Place tortillas in the prepared baking dish and cover with enchilada sauce. Sprinkle with cheese. Bake in a 350-degree oven for 20 minutes. Sprinkle with additional cilantro just before serving.