Leave it to Rachael Ray make a sloppy joe out of almost anything. J
This was the second time I made these. It's a great way to get the flavor of buffalo chicken wings in a much healthier meal. You can find Rachael's recipe here. I cut the original recipe in half because it makes so much, but the post below is the original 8 serving recipe. If you like buffalo chicken, you'll love these.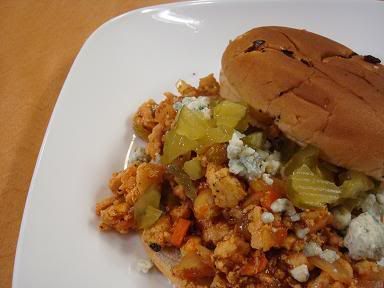 Sloppy Buffalo Joes
2 tablespoons extra virgin olive oil (EVOO)
2 pounds ground chicken or turkey breast
1 carrot, peeled and chopped or grated
2 stalks celery, chopped
1 yellow onion, finely chopped
2-3 cloves garlic, finely chopped or grated
Salt and freshly ground black pepper
2 tablespoons red wine vinegar
2 tablespoons brown sugar
1 tablespoon Worcestershire sauce
1/4-1/3 cup hot sauce, such as Frank's Red Hot brand
1 cup tomato sauce
1 cup chicken stock
8 good quality burger rolls, split and toasted
1 cup blue cheese crumbles
2 large dill pickles, chopped
Heat a large skillet with the EVOO over medium-high heat. Add the meat and break it up with wooden spoon, then cook for 5-6 minutes. Add in the carrots, celery, onions and garlic, season with salt and freshly ground black pepper, then cook for 7-8 minutes more.
In a bowl, combine the vinegar, sugar, Worcestershire sauce, hot sauce, tomato sauce and stock. Pour into the pan and stir to combine. Simmer a few minutes more. Pile the sloppy Buffalo filling onto the buns and top with blue cheese and chopped pickles.