I've never tried a roast with an Asian flair to it, but
this recipe
 from Whole Foods was a delicious way to try. The overnight marinade helps to infuse every bite with the unique Hoisin flavor. It's a great reason to break out that unused crockpot. I hope you like it. This was great over Jasmine Rice & served alongside steamed edamame.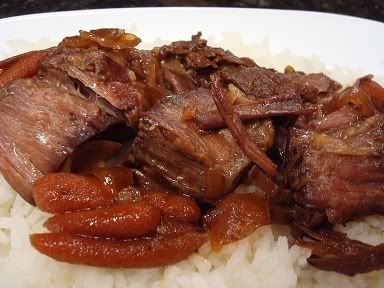 Slow Cooker Hoisin Beef Stew
1/2 cup beef broth
1 (10-ounce) bottle hoisin sauce
1 teaspoon hot sauce
3 cloves garlic, finely chopped
1 (1-inch) piece peeled ginger, grated
1 1/2 pounds cubed round or chuck stew beef
2 yellow onions, roughly chopped
1 cup baby carrots
2 ribs celery, roughly chopped
Whisk together broth, hoisin, hot sauce, garlic and ginger in a wide, shallow dish or bowl. Add beef, onions, carrots and celery and toss to coat. Cover and refrigerate overnight.
Transfer meat mixture to a slow cooker, cover and cook on a low setting until beef is very tender, 6 to 8 hours. Alternately, cook on a high setting for about 3 hours. Ladle into bowls and serve.



Per serving (about 13oz/378g-wt.): 430 calories (90 from fat), 10g total fat, 3.5g saturated fat, 110mg cholesterol, 1300mg sodium, 24g total carbohydrate (2g dietary fiber, 14g sugar), 55g protein