Brianna posts some of the most delicious Asian dishes on her blog,
Oishi
. I saw this Asian Meatloaf and knew I had to make it. We served it with Ramen & Edamame for a very tasty, flavorful meal.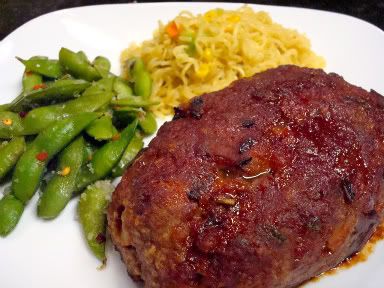 Asian Meatloaf with sweet/spicy glaze
For the Meatloaf:
2 TBS. red miso, dissolved in a little water to form a paste, divided
1/2 lb. ground pork
1/2 lb. ground beef
1/3 cup panko breadcrumbs
1 egg
4 green onions, white & green parts chopped
1/2 cup chopped shitake mushrooms
a thumbnail-sized piece of ginger, peeled and minced
2 cloves garlic, minced
2 TBS. soy sauce
1 1/2 tsp. fish sauce
1 1/2 tsp. rice vinegar
a squeeze of honey
1 1/2 tsp. mirin
1 tsp. brown sugar
For the Glaze:
1 TBS. chili paste (such as Sambal Oelek)
squeeze of honey
squeeze of hot chili sauce (such as Sriracha)
1/2 tsp. brown sugar
Preheat oven to 350 degrees. In a little bowl, combine the red miso and a little water to form a paste. Set aside.
In a large bowl, combine the ground meats, breadcrumbs, egg, green onion, mushrooms, ginger, garlic, and 1 TBS. of the miso paste. Mix with your hands until combined.
In the same little bowl as the remaining miso paste, add the soy sauce, fish sauce, rice vinegar, honey, mirin, and brown sugar. Mix well. Spoon this mixture a little at a time into the meat mixture, and use your hands to incorporate it in. Reserve about a spoonful of sauce in the bottom of the bowl to make the glaze.
Shape the meat-mixture into a loaf-shape on a greased baking sheet.
To the bowl with the reserved spoonful of sauce, add the chili paste, honey, hot chili sauce, and brown sugar. Stir to combine. Spoon on top of the meatloaf.
Bake the meatloaf for about 45 minutes or until done. If making a side of roasted asparagus, toss the asparagus on another baking sheet with a drizzle of sesame oil, a sprinkling of chili flakes, and some salt & pepper. Put in the oven for the last 10-12 minutes of baking time.