This is a dish made for Cancy. He went through his fair share of Hamburger Helper before I met him. The Dijon & Colby cheese are what pulled me in. This recipe comes together super easily. I would recommend that you prep your ingredients before you start just to keep things moving along. Although this is originally a Rachael Ray recipe, I followed
Shelly's version
because she cut the serving size down.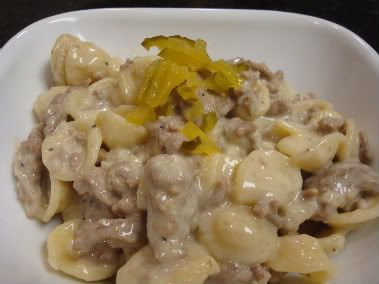 Grown up Hamburger Helper
2 cups pasta (I used orrichette shaped pasta)
1/2 pound ground beef (To help cut some calories & fat, I used ground turkey)
2 big tablespoons of grated onion
2 teaspoons worcestershire sauce
2 tablespoons butter
1 1/2 tablespoons flour
1/2 cup chicken stock
1 cup of half and half (We used fat free 1/2 & 1/2)
1/2 tablespoon dijon mustard
1 1/4 cup shredded colby jack cheese
Garnish:
chopped dill pickles
diced tomatoes or salsa (We didn't use this)
Boil a pot of water and add the pasta, cook per the box. Don't drain until the rest is ready.
In a large skillet brown the meat. Add the onion and worcestershire then some salt and pepper. When fully cooked, remove to a paper plate and get rid of the grease.
In the same skillet, over medium heat, melt the butter. Whisk in the flour and cook for a minute. Whisk in the half and half and the chicken stock. Bring to a bubble and cooke for a few minutes until it thickens up. Stir in the dijon. Add the cheese and keep stirring until all melted into gooey goodness. More salt and pepper.
Drain the pasta and add to the sauce skillet along with the meat. Serve with the dill pickles and tomatoes/salsa if you wish.