As most people know, I adore Rachael Ray. Her recipes tend to be a "go-to" of mine when trying to come up meals for the week. These
Salsa Verde Burgers
were a great reason to grill out.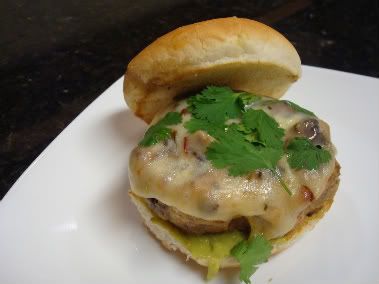 Rachael Ray's Salsa Verde Burgers

1 avocado, halved and pitted
1/2 cup mayonnaise
1 clove garlic, finely chopped
Salt
1 pound ground turkey thigh meat
1/2 cup salsa verde
4 slices pepper Jack cheese (about 4 ounces)
4 kaiser rolls, split
1 cup fresh cilantro leaves, coarsely chopped
2 small green or red tomatoes, sliced
Scoop the avocado flesh into a small bowl. Add the mayonnaise and garlic and mash with a fork until well combined but chunky. Season with salt and set aside.
In a medium bowl, combine the ground turkey and salsa. Divide the mixture to form 4 patties.
In a large nonstick skillet over medium-high heat, cook the patties for 4 minutes on one side. Flip and top each with a slice of cheese; cover and cook for 4 minutes more.
Spread the avocado aioli on the split side of each roll bottom and cover with 1/4 cup cilantro. Top with a patty and 2 tomato slices; set the roll tops into place.