Every Southern woman seems to have her own sausage gravy recipe. I started making this as a very occasional breakfast when Cancy & I were married. You see, it's not very healthy for you... Shocking, right? :) But it's very delicious and a nice lazy late morning breakfast.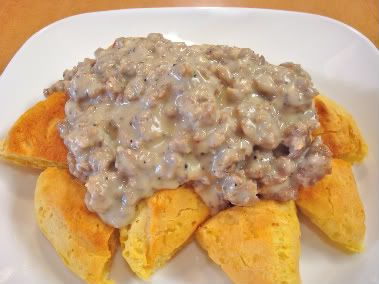 Biscuits & Sausage Gravy

1 small can of buttermilk biscuits (or make your own if you are feeling like a go-getter)
1 lb spicy ground pork breakfast sausage (we use Jimmy Dean's Hot sausage)
4 Tbps white flour
2 Cups of milk (You can use skim or whole, I can't taste the difference in this recipe)
Pepper
Brown your sausage, breaking it down into small pieces as it cooks through. While your sausage is browning, bake your biscuits as directed on the package.
Once sausage is browned, sprinkle the flour over top. You'll want to stir everything around for about 2 minutes to make sure the flour coats all of the sausage & any grease. This will help to "cook" the flour and get rid of a floury taste.
Once you can't see the flour in the pan anymore, slowly stir in the milk. You'll want high heat at first, just until it starts to boil and then drop to low. Stir this often because you don't want any lumps. Stir in Pepper to taste.
When the biscuits are done, quarter them or just tear them up. Put them on a plate and cover in your sausage gravy.