I've had this recipe save for awhile.
Peabody
is one of my favorite foodie bloggers. This is a great appetizer to make if you are rushed for time. The ingredients in this recipe are things I typically have on hand at any time so it's easy to put together. We used carrots, celery, garlic crisps, & pretzels for dippers.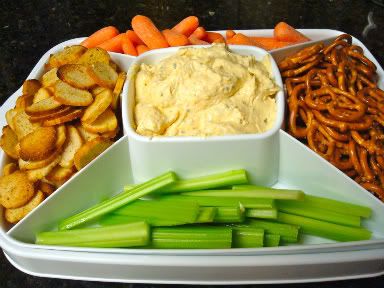 Cheddar Ale Spread

8 oz cream cheese

2 tsp Dijon mustard

2 ½ cups shredded extra-sharp Cheddar cheese

2 TBSP heavy cream ( I used FF 1/2 & 1/2 )

¼ tsp Tabasco sauce

¼ tsp salt

¼ cup beer ( I used Corona )

2 TBSP chopped fresh parsley ( I used 1 Tbsp dried parsley )
Combine the cream cheese, mustard, Cheddar, cream, Tabasco, and salt in a food processor.
Process for about 30 seconds, add the beer, and continue processing until very smooth.
Pulse in the parsley until just dispersed.